1 Timothy 4:13 teaches that the public reading of scriptures is an important ministry in its own right, in addition to exhortation and teaching. But what would you have done if your fiancée who knows you are not a staunch Bible reader keeps sending scriptures to you and never stops cold calling you to ensure you read it? I bet, I would have got angry at a point! Well, that would not be the case for Adam Kumah Kaeti, the Founder of Kotbits Technologies. He saw his fiancée's 'nuisance' as an opportunity to build an app!
myBibla is a simple social platform which allows Christians to let their family and friends know what they are reading in the Holy Bible instantly. It matches your contacts to determine what your family and friends are reading in the Bible and instantly alerts you.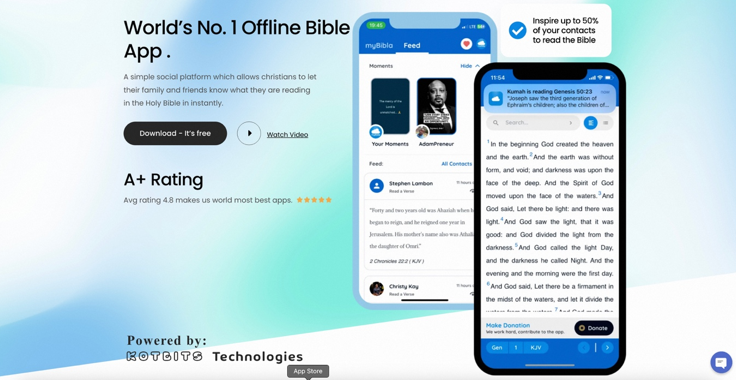 In a Facebook post, the Founder of Kotbits Technologies, developers of myBibla, reveals that he conceived the idea in 2013, when his then fiancée, now his wife, would always forward scriptures and sermons via WhatsApp to him and kept cold calling to ensure he read them.
"The fact was I'm not a staunch Bible reader and obviously deserve every pressure to read the Holy Book," Adam Kumah Kaeti, confessed. He further asserted, "WhatsApp later introduced the blue tick to show who has seen but unfortunately cannot determine whether one has indeed read (let's give technology a time), so it wasn't enough for her to make sure I keep up with my Bible reading habits."
He got his eureka moment as he brainstormed on how to help make his fiancée understand or minimally follow her Bible reading habits. The idea was to build a real-time Bible reading app which lets both of them know what they are reading in the Bible instantly. After abandoning the idea for seven years, in 2020 during the Covid-19 lockdown, he decided to give the idea another chance.
Aside powering you to choose whether to let your family and friends know what you are reading in the Bible instantly, myBibla offers high level of privacy from account creation to a total deletion of one's account. You can mute and even block others whom you don't want to associate with. Biggest take on privacy feature is going completely stealth where no one will know what you are reading on the app but also mean you won't get to know what others are reading.
One of the key features is also to allow users post Testimonies, make Declaration and post inspirational contents either in Video, Picture or Text. A WhatsApp Status-Like feature also allows users to react with religious based emojis and also integrated Realmoji. Emojis have been made more intriguing in line with myBibla social media's main premise with the introduction of RealMojis, a specialized type of emoji that is intended to accomplish the same way but using the users' faces, motions, and expressions. You must attempt to mimic and capture an emoji in order to make a RealMoji of that specific emoji. The RealMoji you have developed can then be used to react to future testimonies, declarations and inspirational post from your contacts.
When in doubt of knowing where exactly to read in the Holy Book, myBibla gets you a direct access to what your family and friends are reading in real-time thereby creating a path for you to read. myBibla is meant to direct, motivate and encourage people to know where to read from the Bible. Users can also discuss on verses with their friends and family to get closer to God and strengthen their faith in Him.
With myBibla:
Experience myBibla in over 10+ languages and counting.
Switch between 1,000+ Bible translations, 70+ languages.
Offline Bibles: Read offline even without network access.
Feed: See what your family and friends are reading and liking instantly.
Likes: Memorize and finding your favorite Bible verses.
Share verses with friends: social media, email, or SMS/text.
Notes: Keep them private so only you can see them, or public to share with friends.
Another advantage of myBibla Bible App is its user-friendly design. The app has a clean and intuitive interface, making it easy for users to navigate and find the content they are looking for. It also offers a variety of customization options, allowing users to personalize their experience and tailor the app to their individual needs.
Overall, myBibla App is a valuable resource for anyone who wants to engage with the Bible on their mobile device.
What's better than reading to inspire others? Search myBibla on Google Play Store and Apple App Store and experience the new way of reading the Bible with your family and friends. Follow this URL to download https://mybibla.page.link/invite
For suggestions, donations and enquiries, reach out to Kotbits Technologies on hello@mybibla.com or +233 20 949 5566