The inflation rate for April 2023 dropped to 41.2% from 45% in March 2023, the Ghana Statistical Service (GSS) has said.
Food inflation went down to 48.7% in April 2023, from 50.8% in March 2023, whilst non-food-inflation declined to 35.4% in April 2023, from 40.6% in March 2023.
Inflation for locally produced items stood at 38.2%, whereas inflation for imported items was 43.1%.Five groups recorded inflation higher than the national average.
They were Housing, Water, Electricity, Gas and Other Fuels (59.0%); Furnishing, Household Equipment and Routine Household Maintenance ( 56.3%); Food and Non-Alcoholic Beverages ((48.7%); Personal Care, Social Protections and Miscellaneous Goods and Services (48.5%) and Transport (42.5%).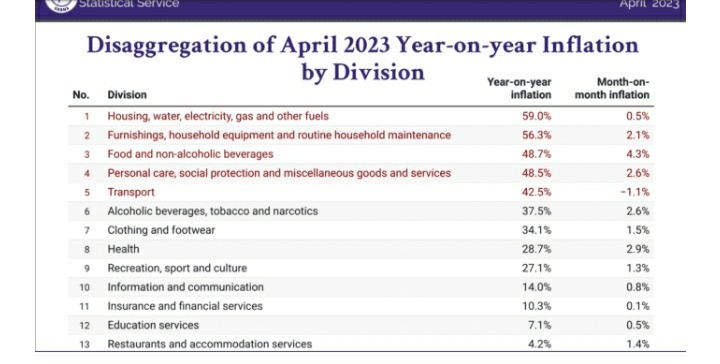 For food inflation, Tea and Related Products (82.3%); Cereals and Cereal Products (62.9%); Milk and Diary Products (61.8%); Fish and Other Sea Foods (58.3%); Sugar, Confectionary and Desserts (56.7%); Fruit and Vegetable Juices (55.2%); Oil and Fats (53.2%) and Water (49.6%) recorded year-on-year inflation higher than the overall food inflation.
SOURCE: 3NEWS