In Techiman, Bono East Region, two women are redefining the narrative of agriculture and exemplifying the strength of female entrepreneurship.
Priscilla Agambilla and Abena Kusiwaa, each with their unique journeys, have risen above challenges to become inspirational figures in their communities.
Priscilla Agabilla: Gari producer on a mission
A single mother and a former nursing student, Priscilla Agambilla, found herself at a crossroads when she had to drop out of the Mampong Nursing Training College to care for her ailing son.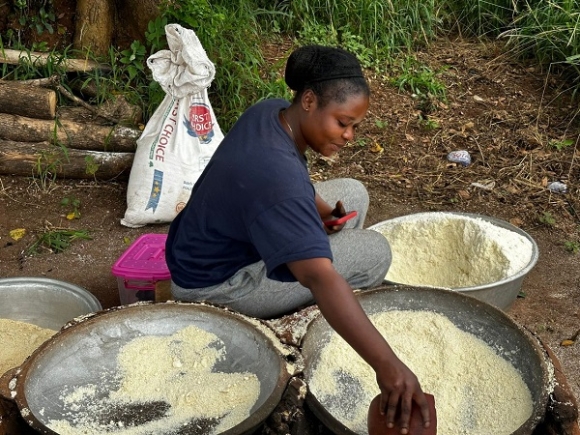 Determined to support her family and fund her return to school, she embraced the idea of cassava processing and ventured
into producing gari.
Her efforts yielded impressive results as she established her business and began gaining a monthly profit of GH¢1,000. The quality of her gari transcended borders, finding its way to homes across the Greater Accra, Ashanti, and the Northern regions.
However, Priscilla's aspirations go beyond this success, and she dreams of expanding her business further.
Despite receiving support from a pastor cum farmer, Rev. Evans Kyere-Mensah, who has been instrumental in empowering young agriculturalists, Priscilla faces challenges in meeting the demands of a growing enterprise.
The scarcity of vehicles and the rising transportation costs hamper her ability to procure fresh cassava from the farms. Nevertheless, her drive remains unshaken, and she strives to overcome these obstacles to achieve her dreams.
When asked about pricing, the gari processor said a bucket, which weighed between 70 to 120 kilogrammes, sold for GH¢220 and an "olonka", which weighed about 1.5 kilogrammes, sold for GH¢22.
Abena Kusiwaa: cultivating success through pepper farming
Similarly, a 29-year-old diploma graduate and an Agriculture Extension Officer with the Ghana Cocoa Board at Techiman, Abena Kusiwaa, has imprinted her path in the world of large-scale pepper farming in Tanoso-Techiman.
Despite the hardships she faced during her childhood, Abena's spirit refused to be daunted, and she traded whatever she could find to forge ahead.
Now pursuing a Bachelor of Science degree in Agriculture Business Management at the Methodist University College at Wenchi, Bono East Region, Abena's dedication to farming is a testament to her resilience.
With the support of Rev. Kyere Mensah, she has not only received crucial financial assistancebut also valuable guidance in effective cultivation practices.
According to her, "the pepper takes about three months to grow and should be watered thrice a week or every two weeks depending on the crop's needs."
The farmer said typically, a 53- kilogramme sack of pepper, known locally as 'kotoku', goes for GH¢900. However, because
prices were determined by the market women who bought on a wholesale basis, this could reduce to GH¢700.
Highlighting the significance of timely cultivation during the rainy season, Abena ensures that her peppers flourish and fetch higher prices.
However, she deals with challenges, such as the cost of fertilisers, irrigation, and hiring labourers, which impact her overall income.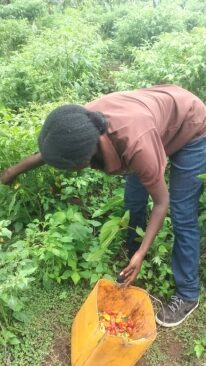 "In addition to the cost of fertiliser and irrigation, the market women also buy the pepper on credit but now, I have found ways of selling the product on the market myself."
She also dreams of the day when the government will connect the Tano River in Techiman to their farms, easing their reliance on distant water sources or unpredictable rainfall.
Rev. Evans Kyere-Mensah: Empowering the future of agriculture
The Chief Executive Officer of Agricimpact Ghana Limited and Agricwealth Ghana, Rev. Evans Kyere-Mensah, stands as a guiding force behind these inspiring women.
Through his mission to change the perception of youth towards agriculture and his dedication to enhancing nutritional and food security in Africa, Rev. Kyere-Mensah has already trained and supported numerous aspiring farmers.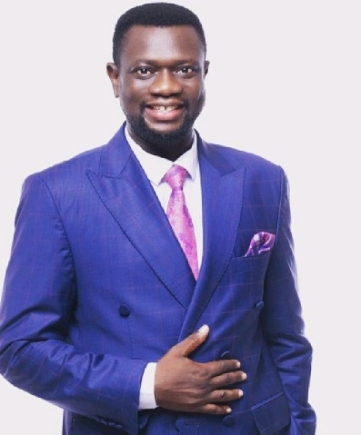 He is the lead convener of the annual Ghana Youth Agriculture Summit and has initiated projects to train over 200 women in mushroom production within the Bono Region, in collaboration with APEL CIDA-KNUST.
His vision and support have enabled young talents like, Priscilla and Abena, to thrive and he continues to advocate increased funding and access to essential resources for the agricultural sector.
Rev said that his main challenge was with funding and the difficulties in ensuring access to high-quality seeds, fertilisers, and modern farming techniques.
The farmer, who holds a degree in Political Science from the University of Ghana- Legon, Accra, said; "Currently, I gratefully receive support from the African Centre for Energy Policy (ACEP) and the National Alternative Employment Livelihood
Programme (NAELP) and do appeal to local and international organisations, governments and individuals to unite to support the noble cause because I believe agriculture is the key to the nation's economic recovery."
Rev. Kyere-Mensah is married to his wife of 12 years, Dr Mrs Eunice Mintah Kyere-Mensah, a pediatrician with the Komfo Anokye Teaching Hospital (KATH) in Kumasi.