A Ghanaian man, who has been living in the United States of America, for more than a decade has spoken for the first time about why he is building a state-of-the-art, American standard library for the children of Agbozume.
Agbeko Odione Kumordzie, who was born and raised in Agbozume by his late single mother, told GhanaWeb exclusively that he always knew he wanted to do something in his mother's name, although he wasn't particularly sure what that would be.
Explaining the story behind how the idea for an ICT library came about, the Certified Public Accountant (CPA) said that when he came back in 2022 to mark a year since his mother's death, he had an unusual encounter with her (his mother) in a dream.
He said that his mother told him that instead of building a big house that was not beneficial to anyone since he wasn't even living here, he should think of something else to do for her.
Agbeko told GhanaWeb that he immediately asked around how children in Agobzume learn ICT, and that was when he got the shock of his life, prompting this idea.
"My mother died in 2021, and I came to bury her. In 2022, around the same time, I came to Ghana for a one-year anniversary for my mom. I did not know Nana Tea at the time, but he came for the funeral, and when I came back a year later, on the eve of the anniversary, my mother appeared to me and said, this house you have here is not doing anything for anybody, so do something in my name. So, quickly, on the eve of the anniversary, I asked a friend of mine, how do children here learn computers? And my friend told me that don't I know that children here learn computers on a blackboard? And I said it will not happen in my lifetime.
So, I went to Sonto, where my mother went to school when she was very young, and I saw the chiefs and they gave me the land. That was the 2nd of May of last year, because my mother's anniversary was 1st May. About 150 people came and that day, I told them we are building the ICT lab, and I raised about GHc10,000. The next day, I bought cement and some other stuff, and that's how I started the project," he said via a phone interview, from his base in the USA.
Agbeko also explained other details about the project, including the costs he has incurred over the period.
He was, however, quick to add that he had also had some good support from strangers and while that is commendable, he remains committed at completing the American-standard project, even without anybody's help.
"So far, I have spent about $125,000 and in
cedis, maybe about GHc200,000 and people all over the world donated towards that money. I think so far, I raised about $75,000 on social media. So, the difference of that is from my own pocket. I am just focused on building the place whether people support me or not because I just think that nobody should learn computers on a blackboard. And I am determined to build one of the finest ICT labs ever in the history of Africa, if not the whole world. Watch it; it will be very nice and elegant American standard. I'm not just building a classroom block and putting computers inside.. everything will be motorized.
There will be a reception area, there will be a quiet room, there will be a ATHTV, a projector, a CCTV camera, there will be a fridge, there will be a sofa – people have to learn computers with some sense of elegance and lyrical standard. If you want to do something just do it at once," he stressed.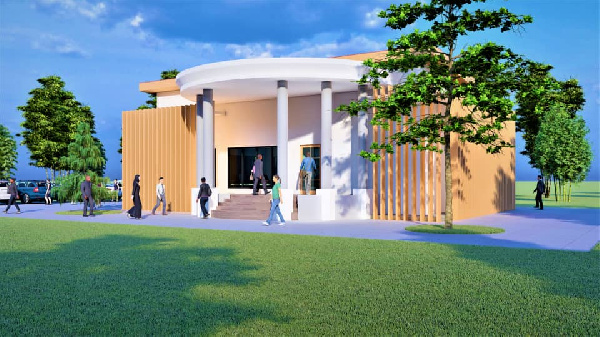 Agbeko Odione Kumordzie, who is popularly known as Prof Double Double because he has two sets of twins, also used the opportunity to show gratitude to his wife.
He explained that his wife, a Jamaican, could have decided against his decision to invest in such a project in Ghana and not her country, but she has rather shown him great support.
"I am a very quality-oriented guy. I have stayed here in the USA for at least 22 years and I have seen the good stuff, so I just can't come and do anything to any people in Ghana; it must be American standard.
"I want to thank my wife because she's supported me on this project. Being a Jamaican, she could have said go do this in Jamaica but she didn't do that. She was ok that we do it for the people here," he added.
The Charity Galley ICT Lab project is expected to be ready before September 2024, just before the general elections in Ghana.
So far, Agbeko says he needs an additional $60,000 to $80,000 to finish the ICT lab to the point he wants it to be, with that money
projected to go into things like the landscaping, opening a maintenance department, and other essential things needed to bring his big dream to life.